Preliminary Call for Participation [PDF]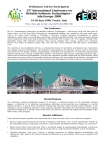 Springer has published the proceedings of the conference as volume 5026 in their Lecture Notes in Computer Science series.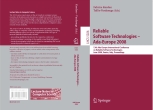 proceedings accessible online at: http://www.springerlink.com/content/978-3-540-68621-7/

In cooperation with
SIGAda

ACM SIGAda 2008
Annual International Conference on the Ada Programming Language
October 26-30, 2008
Portland, Oregon, USA
official website
Conference Advert [PDF]

Webmaster:
Alessandro Lanza
Last updated:
May 5, 2008
13th International Conference on Reliable Software Technologies - Ada-Europe 2008
16-20 June 2008, Venice, Italy
---
Call for Industrial Presentations
The conference also seeks industrial presentations which may have value and insight, but do not fit the selection process for regular papers. Authors of industrial presentations are invited to submit a short overview (at least 1 page in size) of the proposed presentation to the Conference Chair by 13 January 2008. The Industrial Program Committee will review the proposals and make the selection. The authors of selected presentations shall prepare a final short abstract and submit it to the Conference Chair by 11 May 2008, aiming at a 20-minute talk. The authors of accepted presentations will be invited to derive articles from them for publication in the Ada User Journal, which will host the proceedings of the Industrial Program of the Conference.