Preliminary Call for Participation [PDF]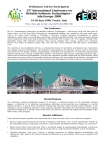 Springer has published the proceedings of the conference as volume 5026 in their Lecture Notes in Computer Science series.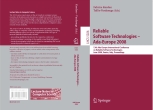 proceedings accessible online at: http://www.springerlink.com/content/978-3-540-68621-7/

In cooperation with
SIGAda

ACM SIGAda 2008
Annual International Conference on the Ada Programming Language
October 26-30, 2008
Portland, Oregon, USA
official website
Conference Advert [PDF]

Webmaster:
Alessandro Lanza
Last updated:
May 5, 2008
13th International Conference on Reliable Software Technologies - Ada-Europe 2008
16-20 June 2008, Venice, Italy
---
The authors of accepted regular papers shall prepare camera-ready submissions in full conformance with the LNCS style, not exceeding 14 pages and strictly by 2 March 2008. For format and style guidelines authors should refer to: http://www.springer.de/comp/lncs/authors.html. Failure to comply and to register for the conference will prevent the paper from appearing in the proceedings. The conference proceedings will be published in the Lecture Notes in Computer Science (LNCS) series by Springer Verlag and will be available at the start of the conference.