General Information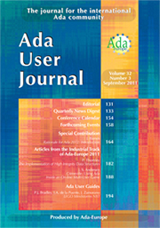 The Ada User Journal is produced by Ada-Europe. It appears four times a year, on the last days of March, June, September and December. Copy date is the last day of the month of publication.
The Journal aims to inform readers of developments in the Ada programming language and its use, general Ada-related software engineering issues and Ada-related activities. The Journal also welcomes contributions on topics not strictly Ada-centric but related with its scope.
The Journal publishes the following types of material:
Refereed original articles on technical matters concerning Ada and related topics.
Invited papers on Ada and the Ada standardization process.
Proceedings of workshops and panels on topics relevant to the Journal.
Reprints of articles published elsewhere that deserve a wider audience.
News and miscellany of interest to the Ada community.
Commentaries on matters relating to Ada and software engineering.
Announcements and reports of conferences and workshops.
Information regarding standards concerning Ada.
Reviews of publications in the field of software engineering.
The Journal is indexed by Scopus and by EBSCOhost in the Academic Search Ultimate database.