Preliminary Call for Participation [PDF]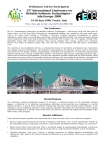 Springer has published the proceedings of the conference as volume 5026 in their Lecture Notes in Computer Science series.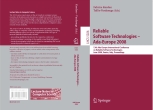 proceedings accessible online at: http://www.springerlink.com/content/978-3-540-68621-7/

In cooperation with
SIGAda

ACM SIGAda 2008
Annual International Conference on the Ada Programming Language
October 26-30, 2008
Portland, Oregon, USA
official website
Conference Advert [PDF]

Webmaster:
Alessandro Lanza
Last updated:
May 5, 2008
13th International Conference on Reliable Software Technologies - Ada-Europe 2008
16-20 June 2008, Venice, Italy
---
Monday

16 June

T1

Full day

Jean-Pierre Rosen (Adalog, France)
AADL: Architecture Analysis and Design Language

T2

Morning

John Barnes (John Barnes Informatics, UK)
The best of Ada 2005

T3

Afternoon

Matthew Heaney (On2 Technologies, USA)
Object-Oriented Programming in Ada 2005

T4

Morning

Tullio Vardanega (University of Padua, Italy) and Juan Antonio de la Puente (Technical University of Madrid, Spain)
Preserving Model-Asserted Real-Time Properties at Execution Level for High-Integrity Systems

T5

Afternoon

William Bail (The MITRE Corporation, USA)
Technical Basis of Model Driven Engineering

Friday

20 June

T6

Full day

Cristina Vicente-Chicote and Diego Alonso-Cáceres (Universidad Politécnica de Cartagena, Spain)
A Practical Introduction to Model-Driven Software Development using Eclipse
* Important information for participants *

T7

Morning

Benjamin Brosgol (AdaCore, USA)
Languages for Safety-Critical Software: Issues and Assessment

T8

Afternoon

Ricky Sward (The MITRE Corporation, USA)
Service-Oriented Architecture Concepts and Implementations

T9

Morning

William Bail (The MITRE Corporation, USA)
Verification Techniques for Dependable Systems

T10

Afternoon

Frank Singhoff (University of Brest, France)
About Real Time Scheduling Analysis of Ada Applications
Morning tutorial sessions will start at 9:30 and end at 13:00. Afternoon sessions will start at 14:00 and end at 17:30. There will be coffee breaks at 11:00 - 11:30 and at 15:30 - 16:00.